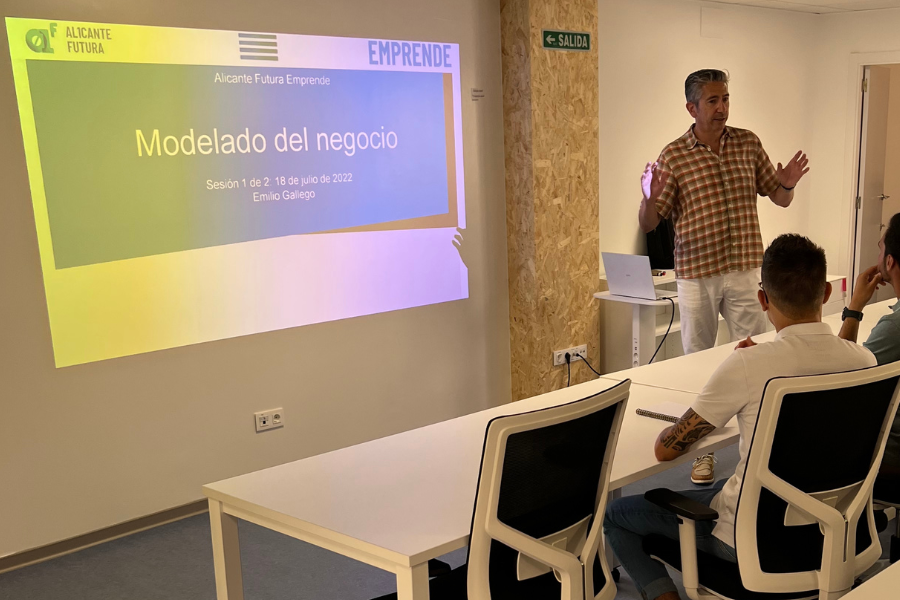 Today was the start of the first intensive introductory session of the program of mentoring and incubation of entrepreneurship; after these sessions, the mentors will carry out a personalized mentoring for 3 months.
The 6 StarUps chosen are as follows:
SUBMERCA: It is the Foodtech project of José Vicente Gil. Market auction. On the perishable, fresh product, which is a significant loss in trade, so they have to throw. They want to create an app for daily auctions of products that businesses consider should be sold immediately.
LALICANTINA: by Alexis Sanz. On-line store of Alicante products and experiences. Launched the store in September 2020. Invoice 20,000 € in 2021. They want to learn in the program and are looking for an investment round, they already had one in the past of 33,000 €. They also need scalability to replicate in other territories.
EGAM: by Esteban Agüir and Juan Miguel Navarro. Digitalization of business processes. They have a software developed by them, and it has been in the market for 17 years (eGAM, www.egambpm.com), but after 5 or 6 years in standby, they want to relaunch it now taking advantage of the confidence of current customers.
DCAL: by Alejandro Villacreces. The business is already up and running, for labeling vehicles, where they emphasize that they are more environmentally friendly than other alternatives. They want to scale up their activity, and to do so they will have to prepare for growth, modifying business models, strategies, distribution channels, etc.
WETOGET: by Juan José Guillén. It is a search engine for colivings, which are housing solutions in which spaces are shared between different inhabitants of the property, each with their own room. They are mainly aimed at students or remote workers, digital nomads, who may want to stay for a short time, without the problems of looking for an apartment to rent, and with the advantages of having a relationship with more people, they have already developed an MVP, and have even won the Santander Xplorer program.
GMOL 4.0: by Juan Luis Gámez. An artificial intelligence app, a cloud-based software aimed at predictive assistance in the plastic injection molding industry, also applicable to other types of injection molding.